Victorious Living Church of God
Where Trials Meet Triumph
The Humble Beginnings of Victorious Living Church of God was formed out of a hunger to experience the more of God. In 1993 there were five of us who committed ourselves to prayer and fasting; believing that God would show up and send the needed revival that was so desperately desired. It was in prayer that God directed and later confirmed by several witness that HE would send revival and birth a new ministry to lead his people into victory. In 1997 with the blessing of my pastor, Victorious Living Church of God was formed, and the work of the ministry begin. Now the difficult task of finding a location begin and through a series of closed doors and Godly encountered maneuvering we found refuge at the Fernwood Park District, 10436 S. Wallace. It was there that we embraced the theme, "Where Trials Meet Triumph".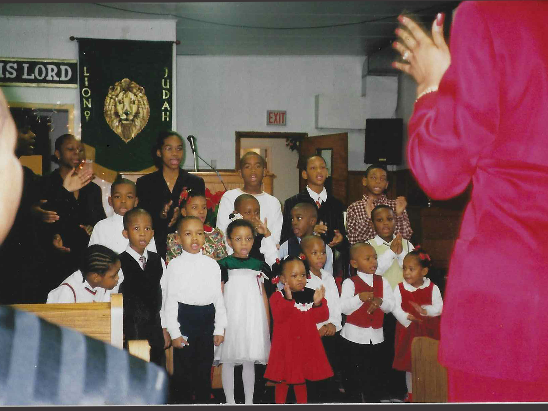 Victorious Living Church of God
The Journey Continues
God Speaks. In August 1999 God revealed to Pastor Blair through prayer that the time had come for the church to have a permanent home and stop wandering in the wilderness like the children of Israel. So, Pastor Blair with the full support of the executive board and other leaders stepped out in faith and secured a loan for a property they had not yet seen. In late September the Spirit of the Lord directed him to 270 E. 14th Street in Chicago Heights, Il and with contract in hand, he negotiated the purchase of what was then the True Holiness Church. The deal was signed, sealed and two days before Thanksgiving Day the property was delivered over into the hands of pastor Blair. With keys in hand, he, lady Blair and a couple of the members immediately walked into the place that would be home for the next 9 years. Prayer, Praise and Thanksgiving was made in that place on that day for it was evidence that God was truly on our side. The next few months were filled with renovations; new roof, windows and doors, tuck pointing, fiberglass baptism pool installed, all new carpeting, chandeliers and HVAC… Shortly after the dust all settled, the glory of God moved, and Pastor Blair declared that God said he was going to pay off the mortgage within the next 6 months. August 2003, we retired the mortgage of the church. In October 2003, we celebrated this momentous affair at the Chateau Bu'She along with our Diocesan Bishop Arthur M. Brazier.
Victorious Living Church of God
Equipping People to LIVE a Victorious and Successful Christian Life!
Greater Is Coming. That is what God said so don't get comfortable. I've called you to do more in another area of town, so find a ministry in this area who needs a facility and be a blessing unto them. Go above and beyond what anyone else would do so that they would know I'm working on their behalf just as I am working in your favor. So, Pastor Blair started the process of locating both the place where God would place VLCG and the ministry that God would have us to bless and just as God said he did perform. We found the future Home of Victorious Living Church of God in January 2008. The building and parking lot was under 4' of snow. The property was just listed on the MLS that morning and when we called the listing agent advised us that she had 18 appointments already lined up. BUT GOD cannot lie. We toured the property, praying at the same time and we heard God say this is it. Pastor Blair with unanimous board approval presented a contract for the full asking price before leaving the walk through and God did what he said. We held the first service on Mother's Day 2008 and God has continued to bless the ministry. Souls are being added to the Kingdom, God is being glorified and we are on fire for him and still looking for the more of God.
Now unto him that is able to do exceeding abundantly above all that we ask or think, according to the power that worketh in us, Ephesians 3:20